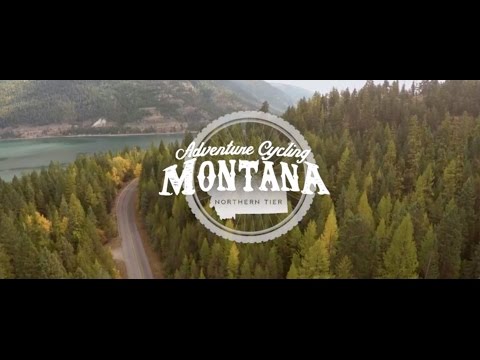 Need a little at-your-desk getaway to get you through the day? Take a trip from Libby to Whitefish with the Adventure Cycling Association in the organization's newly released short film. It features a ride along the Northern Tier route, which goes cross-country from Anacortes, Washington, to Bar Harbor, Maine.
The film highlights the section of the route between Libby and Whitefish, much of it along Lake Kookanusa. Safe to say, there's some OK scenery to take in . It'll have you daydreaming about road riding on warmer days. It was made by Rachel Stevens and Bobby Jahrig.
This is the first in a series of films featuring bike travel in Montana. Adventure Cycling produced the series in partnership with a group called Epic Montana and the Montana Film Office and each one highlights one of the five Adventure Cycling Routes in the state (totaling about 3,500 miles).
– Jenna
The first rides Tejay van Garderen took on the road to becoming one of the top cyclists in the world were in and around Bozeman. It was on those roads that his parents noticed he a had particular grit that would eventually propel him into a top position in American cycling.
Tejay is featured in the Jan/Feb issue of Montana Magazine in a story by Jesse Zentz. After many success, this year Tejay is focused on winning a few key races, and as Zentz explains, is considered a top American contender to win the Tour de France in the coming years.
But if Tejay could ride anywhere in Montana, where would it be?
He told us it's the 75 mile Battle Bridge Road ride that takes riders from Bozeman's Main Street almost to Wilsall.
Here's the official route for the Battle Ridge Road ride
Distance: 75 miles
Elevation gain: 3,373 feet based on MapMyRide.com
Start: Bozeman (intersection of Main Street and Rouse Avenue)
Turnaround: Near Wilsall (intersection of Bridger Canyon Road and Highway 89)
Route: Follow Rouse Avenue north for about 1 mile, when it turns into Bridger Canyon Road. Continue on Bridger Canyon road for about 36 more miles until it ends at the intersection of Highway 89. Turn around and do it all over in the opposite direction.
 Van Garderen: "I really liked the Battle Ridge climb outside of Bozeman near Bridger Bowl. That was probably the hardest climb. To me, thinking about it now, it was like Alp d'Huez or something. But I'm sure if I went back, it might be a bit easier that I remember. That was a long tide and it was pretty country and a really hard climb. I don't know how long it was in terms of miles, but it would usually take me about four hours to go over it, to go down and back up the other side and back home. Like I said, it was a long time ago (likely 2003) and it might be a two-and-a-half-hour ride these days."
Here's a link a map of the ride: www.mapmyride.com/routes/view/328715611
Thanks Tejay for sharing this ride!
Jenna